China NewSpace No. 8: Move over, GPS
Welcome back to China NewSpace, your weekly look into the Chinese private space industry. If you haven't subscribed yet, you should sign up here.
Just this morning, China just launched the final satellite of its BeiDou system, China's answer to GPS, so it seemed like a good time to learn more about it.
First thing to note: it's not Baidu, that's a search engine. BeiDou is the Chinese word for the Big Dipper, and BeiDou's official name is the BeiDou Navigation Satellite System (BDS).
Although it's a bit outside my self-imposed remit of private space business (I don't write that much about China's purely scientific governmental space endeavors), I'm devoting an issue to BeiDou because it's big and important and it also has many terrestrial commercial applications (just like GPS does).
Coming to terms:
Working on this week's newsletter, I've really started to appreciate the British use of the term sat nav. As far as I can tell, most Americans (and many others) aren't actually aware there are competing services, and so tend to use GPS as a generic term.
Obviously this is confusing if you're trying to compare GPS to another system. The industry term is GNSS: Global Navigation Satellite System. The services a GNSS provides are called Positioning, Navigation and Timing (PNT). Neither of these acronyms have really caught on outside of technical circles, so I'd like to plug that we should all start referring to them as sat nav systems.
---
Translation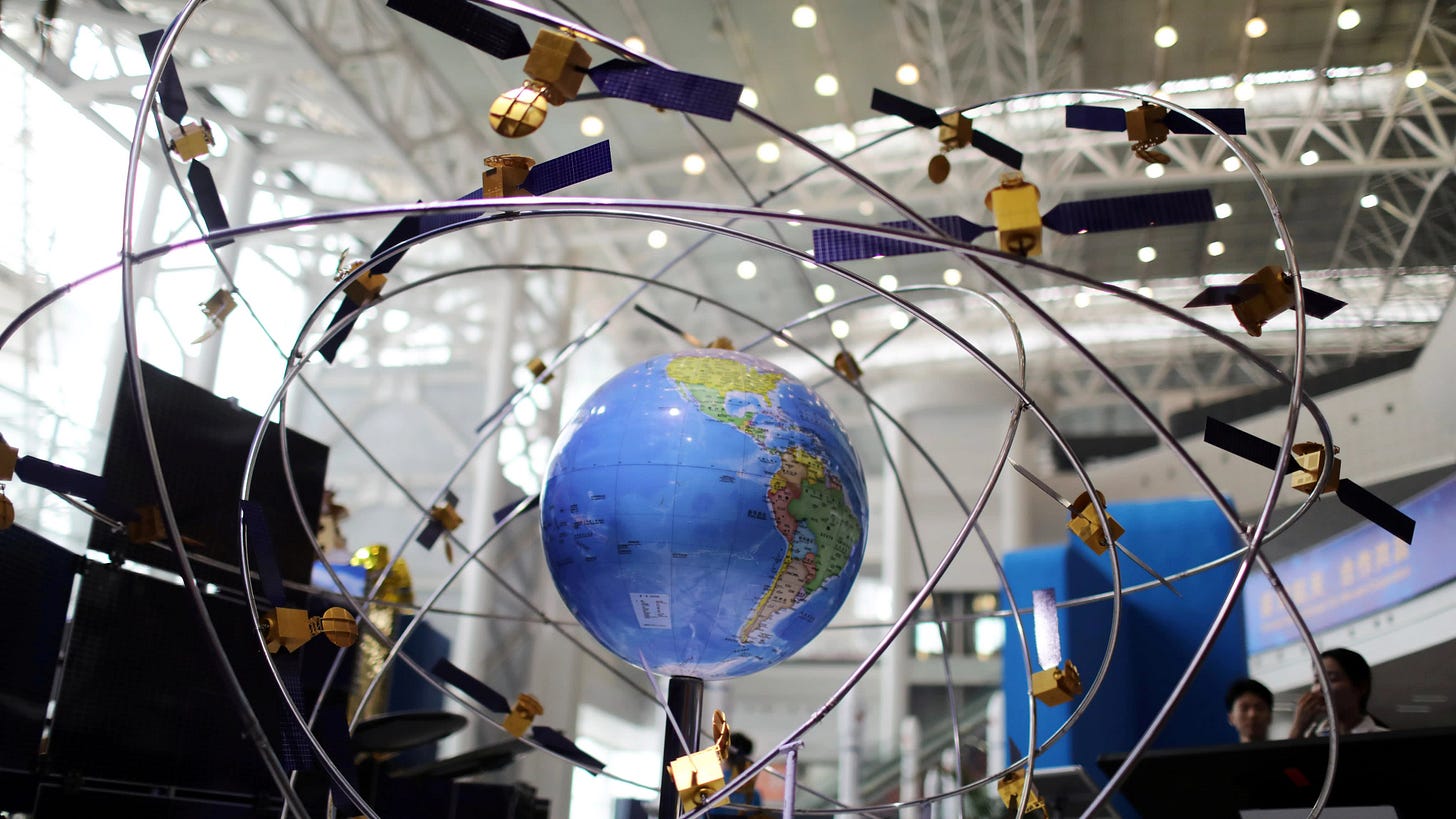 Source: Reuters
This week's translation comes from the article What is BeiDou? by the Chinese blog Space Business Review. It provides a great overview of the history of BeiDou itself, as well as who its competitor systems are:
Currently, there are multiple global or regional satellite navigation constellations in space, including four global systems: the American GPS, the Russian GLONASS, the Chinese BeiDou, and the European Galileo.

There are also two regional systems including the Japanese Quasi-Zenith Satellite System (QZSS) and the Indian Regional Navigation Satellite System (IRNSS), which is also called Navigation with Indian Constellation (NavIC).
But the real highlight of the article is the detail it goes into on what makes BeiDou unique:
Since BeiDou-2 only serves the Asia-Pacific region, China started construction of BeiDou-3 in 2009. The BeiDou-3 system inherits two technical systems, active service and passive service, to provide positioning navigation and timing, global short message communication, and international search and rescue services for global users. At the same time, it can provide services such as satellite-based enhancement, ground-based enhancement, precise single-point positioning, and regional short message communication for users in China and surrounding areas.

… Since the BeiDou system provides services, it has been widely used in fields such as transportation, agriculture, forestry and fishery, hydrological monitoring, meteorological forecasting, communication timing, power dispatching, disaster relief, and public safety.

In November 2013, Qualcomm and Samsung launched a new smartphone generation, the Galaxy Note 3, which became the first smartphone to support BeiDou.

Compared with other satellite navigation systems, the BeiDou system has more high-orbit satellites and strong anti-occlusion capabilities, especially in low-latitude areas. BeiDou provides navigation signals at multiple frequency points, which can improve precision through methods such as combining multiple frequency signals.

BeiDou innovates by integrating navigation and communication functions, and has multiple service capabilities such as positioning navigation timing, satellite-based enhancement, ground-based enhancement, precision single-point positioning, short message communication, and international search and rescue.

Currently, more than half of the world's countries are using China's BeiDou system. BeiDou belongs to China and to the world.
You can read the whole article here.
Additional facts from other sources:
70% of smartphones in China can currently access BeiDou
Russia and China have a cooperation agreement for their respective sat nav systems
BeiDou has a unique feature of using inter-satellite links to improve accuracy
China says that BeiDou will "have a positioning accuracy of 2.5m (8.2ft), which will further be improved to centimetre-level accuracy with additional ground stations" which should be as good as or better than GPS
---
Interesting Links
This is a fascinating article from TechCrunch that demonstrates the difficulties that arise from multiple competing GNSS standards. It's highly worth a read:
China is not just putting satellites into orbit though, but demanding that local smartphone manufacturers include Beidou positioning chips in their devices. Today, devices from a number of major manufacturers, including Huawei and Xiaomi, use the system, along with GPS and Russia's GLONASS as well.

… That puts American smartphone leaders like Alphabet and particularly Apple in a bind. For Apple, which prides itself on providing one unified iPhone device worldwide, the disintegration of the monopoly around GPS presents a quandary: Does it offer a unique device for the Chinese market capable of handling Beidou, or does it add Beidou chips to its phones worldwide and run into trouble with U.S. national security authorities?

… Theoretically, one positioning chip could be designed to incorporate all of these different systems, but that might run afoul of U.S. national security laws, particularly in regards to GLONASS and Beidou. Which means that much as the internet is fragmenting into disparate poles, we might soon find that our smartphone positioning chips need to fragment as well in order to handle these local markets. That will ultimately mean higher prices for consumers, and tougher supply chains for manufacturers.
Inside GNSS has a report on Beijing's recent plan to nurture industries related to BeiDou:
Beijing's municipal government released a three-year plan to promote the innovation and development of industries related to the BeiDou Navigation Satellite System. The total output of BeiDou navigation and location service industry in the Beijing region will exceed 100 billion yuan ($14.4 billion U.S. dollars) by 2022, according to the plan document.

The region historically has shown a keen interest in the GNSS industry and the economic benefits to be derived therefrom. BD Star Navigation, a private navigation products and system provider company located in Beijing, is only one of many companies to be involved in the initiative.

… Beijing will set up seven major demonstration projects to promote BeiDou applications in smart transportation, environment protection and intelligent logistics, according to the plan.
---
News Roundup
June 5: Hangtian Xingyun signed a cooperation agreement with both the Beijing Research Institute of Telemetry (BRIT) and the Harbin Institute of Technology (Weihai)
June 7: Galaxy Space and China Unicom signed a strategic cooperation agreement
June 8: ADA Space said it plans to put 10 thousand satellites in space in 10 years (link in Chinese)
June 9: Huawei and Chang Guang Satellite signed a cooperation agreement
June 10: Geely sold a cubesat on Douin (the name of TikTok within China) for 10 million RMB (link in Chinese)
June 16: The launch of the last BeiDou satellite was scrubbed, and would have completed the BeiDou system, Chinese competitor to GPS, GLONASS, and Galileo. The launch was planned to be livestreamed, an uncommon occurrence for Chinese launches
June 17: The HEAD-5 Satellite was launched on a Long March 2D from Jiuquan, which will be the fifth member of HEAD Aerospace's Skywalker constellation. HEAD Aerospace, a company based in Beijing with offices in France and the Netherlands, plans to have 48 satellites in orbit by 2022. It was launched as a secondary payload to a government Gaofen 9 satellite, as well as the Pixing 3A satellite belonging to Zhejiang University
June 23: The final BeiDou satellite was successfully launched from Xichang, a week late after the June 16 launch was scrapped. The launch had only been announced the day before
---
Until next time
My name is Cory Fitz and I write the China NewSpace newsletter. To better understand China's young and rapidly growing private space industry, China NewSpace brings you translations of topical Chinese-language articles, as well as a roundup of interesting links and relevant news.
If you have any comments for me, feel free to contact me at chinanewspace@gmail.com
You can also find me on Twitter at @cory_fitz